Get Involved
Make a difference for your patients, your profession, and working families.
Learn about MNA
MNA is your resource for union, practice, education, and advocacy information.
Report Unsafe
File a Concern for Safe Staffing form to document incidents on your shift.

See What's New at MNA
Explore our events calendar for the latest continuing education opportunities, MNA meetings, conferences and more.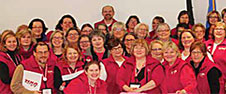 Get important info about your union, your contract, MNA activities, and special discounts for MNA members only.