Events
2015-10-24
Scrubs Night with the MN Wild
Thursday, Dec 13 2018, 7:00pm–Thursday, Dec 13 2018, 10:00pm
Xcel Energy Center
199 W Kellogg Blvd
Saint Paul, Minnesota 55102
The Minnesota Wild is hosting the Second Annual Salute 2 Scrubs Night!
Below is the link to purchase for the specific game!
With every ticket purchased you will receive a special edition t-shirt, on-ice photo opportunity and you are also entered into the raffle for over 20 prizes!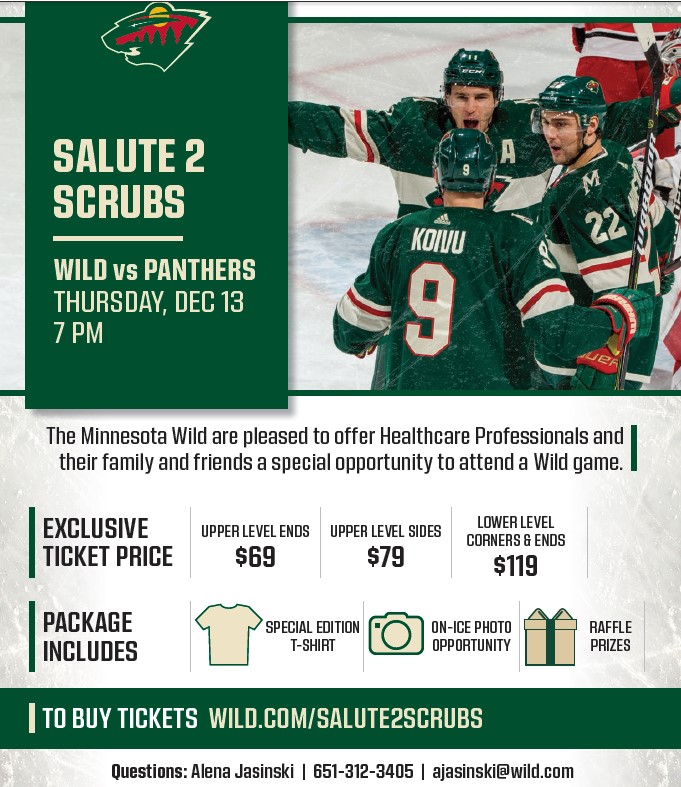 If you have any questions or concerns please reach out to Alena Jasinski at 651-312-3405 or ajasinski@wild.com
Salute 2 Scrubs Night: www.wild.com/salute2scrubs
Raffle Includes: Zamboni Rides, autographed items, Hockey Lodge gift cards, Bench Buddies, and jerseys!